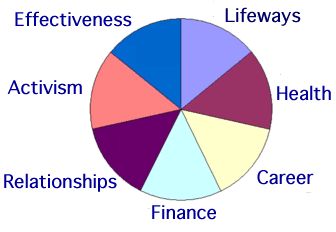 Summary. The diagram shows Resources for Life from a holistic living perspective. There is no particular order to explore the circle, but you should be growing in each area of your life represented by the various elements of the circle. Each element of the circle is interdependent and can be effected by every other element. Work around the circle utilizing the resources here to improve your life, your community, and the world.
Interdependence. If you begin with Lifeways and work your way clockwise around the circle, you will notice that each successive area is served by and dependent upon what is before it. Think of the map as a 'dashboard' of indicators that reflect your overall wellness and effectiveness. Remember, you can always return to the map page by clicking the Map link found throughout this site. Here is a brief introduction to the resource groups that serve each area of the map:
"Growing is ongoing. In every area of life, whatever mountain we've climbed, there is always another behind it. Whatever success we've had, another awaits. No matter how many hurts or failures we've learned and grown from, more are ahead. Every area of life is connected and interdependent. So solutions to life's problems must be holistic." ~ Gregory Johnson
Take Action. Want to put the above principles to work? Then explore our site. You might also be interested to read Volker Ballueder's thoughts on the Life Map. We're pleased to see institutions copying and elaborating upon our model, such as the University of Washington's Wellness Wheel.
Featured Business. Sometimes businesses go beyond the call of duty to offer additional resources and services to customers. MetLife has an excellent collection of simple holistic life tips.