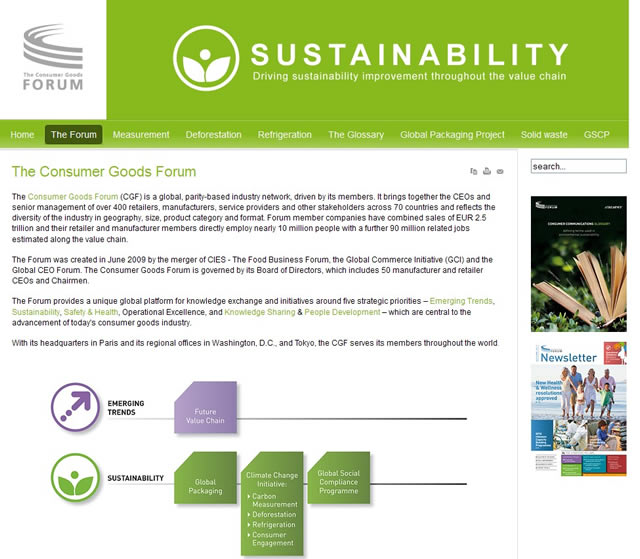 The Consumer Goods Forum (CGF) is a global, parity-based industry network, driven by its members. It brings together the CEOs and senior management of over 400 retailers, manufacturers, service providers and other stakeholders across 70 countries and reflects the diversity of the industry in geography, size, product category and format. Forum member companies have combined sales of EUR 2.5 trillion and their retailer and manufacturer members directly employ nearly 10 million people with a further 90 million related jobs estimated along the value chain.
The strategic work of The Consumer Goods Forum is built on five pillars that underpin the voluntary collaborative work of manufacturers, retailers and service providers along the value chain for consumer goods: Emerging Trends; Sustainability; Safety & Health; Operational Excellence; and Knowledge Sharing & People Development. CGF members have established themselves as leaders in Sustainable Growth by adopting resolutions to help achieve zero net deforestation within their value chains by 2020, to begin phasing out the use of HFC refrigerants as of 2015, and to address health and wellness on a global level.
The Consumer Goods Forum will continue energetically to develop resolutions on Sustainable Growth in other areas of business and to strive for widespread collaboration with other stakeholders to accelerate the transition to sustainable economies.
Measurement
Many CGF members want to better understand the sustainability impacts of their businesses and of the products which they make and sell. Ultimately they want to communicate these to their customers and consumers. The first step in addressing these issues is to understand and measure the impacts that we have in our businesses and across our value chains. It is only then that we can prioritize resources to manage those impacts allowing everyone to use the same standards and data sets to measure their sustainability impacts.
Deforestation
Deforestation accounts for 20% of all greenhouse gas emissions. Whilst the causes of deforestation are complex it is generally acknowledged that the biggest drivers are the cultivation of soya and oil palm, logging for the production of paper and board and the rearing of cattle. All of these commodities are major ingredients in the supply chains of most consumer goods companies.
Refrigeration
Refrigeration is also a significant and growing source of greenhouse gases. This is because the dominant technology – hydro fluorocarbons (HFC) – is 1400 times more potent than carbon dioxide as a greenhouse gas. HFC's represent 1.5% of total warming potential today and are expected to increase to 6-9% of total GHG by 2050 unless action is taken.
The Consumer Goods Forum's Board has agreed on a resolution and action plan in November 2010: The companies recognize the major and increasing contribution to total greenhouse gas emissions from HFCs and derivative chemical refrigerants. The companies are taking action to mobilize resources within their respective businesses to begin phasing out HFC refrigerants by 2015 and replace them with non-HFC refrigerants (natural refrigerant alternatives) where these are legally allowed and available for new purchases of point-of-sale units and large refrigeration installations.
At its Board meeting in November 2010, the Board has agreed a resolution pledging to mobilise resources within the respective businesses to help achieve zero net deforestation by 2020. The companies will achieve this both by individual company initiatives and by working collectively in partnership with governments and NGOs.
SOLIDWASTE
Solid waste management performs a vital function in safeguarding human health and the environment. At a more fundamental level, waste generation is the opposite of resource efficiency, and globally waste generation contributes to a whole range of environmental issues, including resource use and scarcity, energy and water consumption, greenhouse gas emissions and ecological impact.
Global Packaging Project
gppThe Global Packaging Project addresses the need in our industry for a common language to enable intelligent and informed discussion between our businesses on sustainable packaging, and paves the way for meaningful cooperation across our industries. The Global Protocol on Packaging Sustainability was created to provide the consumer goods and packaging industries with a common language with which to discuss and assess the relative sustainability of packaging. That common language consists of a framework and a measurement system, which, alongside the framework, offer a standardised way to address a range of business questions about packaging sustainability, either within a company or between business partners.
What is the Global Social Compliance Programme (GSCP)?
Working conditions and environmental requirements in the global supply chain are becoming an increasingly sensitive topic. Buying companies are responding to this by developing codes of conduct, individually or collaboratively, as well as voluntary monitoring systems. Based on careful, methodical approaches, these codes, and the mechanisms to implement them, have brought about real benefits to workers in most sensitive countries. However, the number of codes has proliferated and approaches have somewhat diverged. The proliferation of codes, audit duplication and divergence of approach have led to duplication of efforts. Moreover, this has sent a confused message to suppliers, and to public authorities, as to what is expected of fundamental labour rights and environmental practices.
Interactive Newsletter >
www.theconsumergoodsforum.com
Current Members of the GSCP
| | | | |
| --- | --- | --- | --- |
| ADIDAS | Germany | IKEA | Sweden |
| AUCHAN | France | JCPENNEY | USA |
| BEST BUY | USA | JERONIMO MARTINS | Portugal |
| C&A | Germany | MARKS & SPENCER | United Kingdom |
| CARREFOUR | France | MIGROS | Switzerland |
| CASINO | France | MONOPRIX | France |
| CHIQUITA | USA | PHILLIPS-VAN HEUSEN | USA |
| COOP SWITZERLAND | Switzerland | PICK 'N PAY | South Africa |
| DELHAIZE/HANNAFORD | Belgium / USA | ROYAL AHOLD | The Netherlands |
| DELL | USA | SOBEY'S | Canada |
| DOLE | USA | STARBUCKS COFFEE CO. | USA |
| EL CORTE INGLES | Spain | TESCO PLC. | United Kingdom |
| GAP INC. | USA | THE WALT DISNEY CO. | USA |
| GLOBUS | Germany | TIMBERLAND | USA |
| HASBRO | USA | WALMART | USA |
| HEWLETT PACKARD | USA | WOOLWORTHS | Australia |
| ICA | Sweden | YAMADA DENKI CO | Japan |